LOW FAT MINI COOKIE CUPCAKES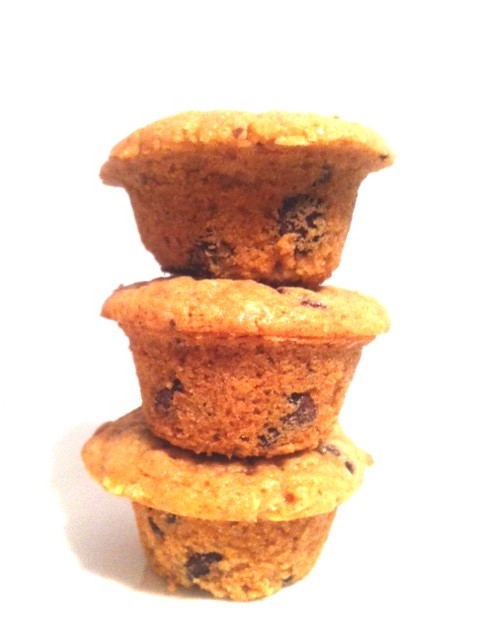 How cute are these little baby chocolate chip cupcakes?! Can you believe they're low fat too?! Well not only are they low fat and adorable, they are also part of my kick off into my "brainless baking" segments on our youtube channel! Since I know we're all not little betty crockers in the kitchen like myself – I've decided to spend a little time creating easy peasy LOW FAT recipes that anyone can make from the boxes in their local supermarket's baking needs section! This way not only are you making healthier versions of your favorite goodies but maybe I can even show you a few things to impress your friends and co workers with your kitchen skills! Don't worry it'll be our little sweet and skinny secret! Anyways, while experimenting with some concoctions, I got a little hungry and made these little chocolate chip cookie cupcakes!!
LOW FAT CHOCOLATE CHIP COOKIE CUPCAKES
All you need is a bag or box of chocolate chip cookie mix from your local supermarket, one egg, a small applesauce cup and half the amount of butter required from the recipe!
Preheat your oven to 375 degrees. Simply place the mix in a bowl, crack one egg and decide whether or not you want to use all applesauce or go half and half and use half the butter! Don't beat yourself up if you want to use half the butter, in fact, I recommend it if your not used to low fat baked goods. It's better to ween yourself off the usual stuff then to jump into a drastic change you might be turned off by. Now use all your apple sauce regardless of if you decide to use some of the butter. If your only using apple sauce, feel free to add about 2oz more if you'd like but it's not necessary. The applesauce is going to make these more cupcake-y than cookie like, FYI.
So mix it all together, it should be a clumpy cookie dough like consistency. Get out your mini muffin/cupcake pan and spray it with a non stick cooking spray or use mini cupcake holders if you prefer. Use a mini ice cream scooper or a tablespoon to spoon the dough equally into the molds. Bake for 5-10 minutes while watching frequently to make sure you don't over cook them!
I hope you enjoy these yummy baby chocolate chip cupcakes as much as I do, I won't tell anyone how easy they were to make. 😉
Thanks for reading! I love that Go Sweet and Skinny is your go-to website for healthy living tips, vegan and vegetarian recipes (from everything from appetizers to cupcakes!) and diet advice. I"m committed to helping you get skinny and live the sweet life! Please follow @gosweetnskinny on twitter, like us on Facebook and subscribe to our YouTube channel to keep yourself sweet and skinny 24/7. And as always, feel free to email me at gosweetandskinny@gmail.com and let me know what low fat, healthy recipes you want to see on the site, what diet books your trying and ask any diet questions your little heart desires! I'm here to help you!:)