Low Fat Red Velvet Cupcakes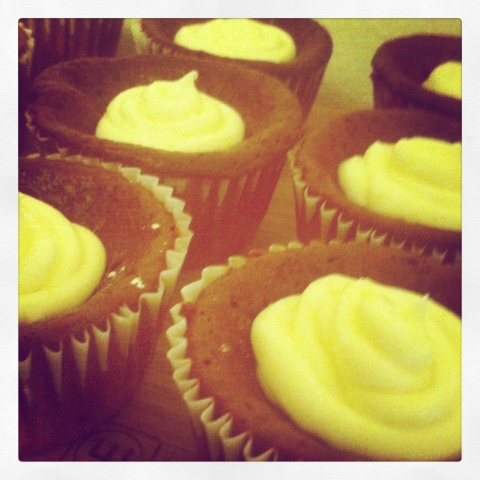 With Valentine's Day just around the corner and drugstores stocked with red and pink heart shaped goodies, you can't help but get in the mood for love, or at least sweets! So of course I immediately thought of red velvet cupcakes! I experimented with a new low fat "brainless baking" red velvet cupcake recipe last weekend and it turned out so yummy I had to share!
This one is for all of you not so kitchen oriented mamas out there or just for the gal too busy to slave over the oven this week! Take a quick trip to the super market and grab these few items for some brainless and delicious low fat red velvet cupcakes!
LOW FAT RED VELVET CUPCAKES
Box of Red Velvet Cake Mix
1 fat free plain greek yogurt
Simply take the cake mix and add your Greek yogurt to it as well as a cup of water. Place in cupcake holders and bake as directed on the box! Yup, that's it. Crazy easy!
I do caution that my cupcakes did sink in a little in the middle so I got crafty and put a dollup of my cream cheese icing in the center and noone even noticed! They were moist and delicious. If you need an easy low fat frosting you may want to try using some vanilla pudding mix and fat free cool whip or for a lighter cream cheese topping use low fat cream cheese and mix in confectioners sugar till you reach your desired consistency.
Thanks for reading! I love that Go Sweet and Skinny is your go-to website for healthy living tips, vegan and vegetarian recipes (from everything from appetizers to cupcakes!) and diet advice. I"m committed to helping you get skinny and live the sweet life! Please follow @gosweetnskinny on twitter, like us on Facebook and subscribe to our YouTube channel to keep yourself sweet and skinny 24/7. And as always, feel free to email me at gosweetandskinny@gmail.com and let me know what low fat, healthy recipes you want to see on the site, what diet books your trying and ask any diet questions your little heart desires! I'm here to help you!