Sweet Potato + Carrot Haystacks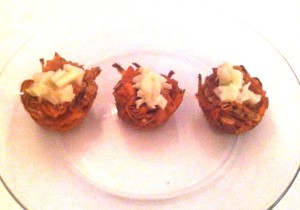 Fall is just around the corner and that makes me SO HAPPY! My absolute favorite seasonal flavors are in the fall and I just LOVE cooking with them. I pretty much do it all year round, even if it's slightly inappropriate, haha. These little baby haystacks are somewhat reminiscent of latkes except they are but lighter and healthier. They are also totally VEGAN if you want them to be, and if you don't, you can add a little egg whites or sub out my non dairy creamer in the topping. I think they are  perfect for the weekend, you know when you have a really huge brunch and only want a light, healthy dinner but still want something ridiculously delicious! 😉 They are just enough to hold you over but low fat and healthy that you won't feel overly stuffed. These Sweet Potato and Carrot Haystacks ( aka latkes or potato pancakes) are also super cute! Which means, they can be a a great healthy, vegan, low fat appetizer/h'oure derve for a party! Plus, they taste just decadent enough that no one will even know what you're serving is GOOD FOR THEM! haha Isn't that always the key!? Super easy to prepare, the whole process probably took me 30 mins tops. Hope you try them out in your kitchen soon!
Sweet Potato + Carrot Haystacks
1 sweet potato
1 carrot
2 tbsp almond butter
2 tbsp maple syrup
1 tsp chili powder (for an added kick!)
3 heaping tbsp of Gluten Free Oats
sprinkle of cinnamon + nutmeg
pinch of salt
(optional egg whites)
Creamy Apple Topping
1/2 granny smith apple
1/4 cup of French Vanilla Silk or Coconut milk creamer
sprinkle of nutmeg and cinnamon
First off, set your oven to 450 degrees. I used a mini cupcake pan sprayed with non stick cooking spray but you can make them more pancake like and put them on a cookie sheet as well! Next use a potato peeler to remove the outside layer of both your sweet potato and carrot, after that's been discarded. Use a grater (or just keep using your peeler and then chop it a bit afterwards – that's what I did) and place all your sweet potato and carrot shreds into a medium sized mixing bowl. Next add your almond butter, maple syrup, oats, egg whites if you're not making it vegan (they stick together a tiny bit better when you use egg whites but the pictured ones are with out!) and finally your seasonings!  Mix it all together very thoroughly! You really want the almond butter and seasonings evenly dispersed. Now just scoop the mix into your little cupcake pan or on to your baking sheet and bake for 10-15 mins depending on size.
While those babies are browning up in the oven, let's make the YUMMERIFIC  (that's right, made up that word!)  creamy apple topping. Cut the skin off 1/2 of a granny smith apple and dice it into tiny pieces, add your creamer and season to taste. Either let the apple pieces soak as you mix up the entire mixture or put everything into your blender/food processor for creamier, less chunky consistency. (My blender wasn't cooperating with me when I was making these so I only diced them.) Let this chill in the fridge while your little haystacks are cooling off.  When reading to serve plop a little into the center and let any extra juice drip over on to the sides. I absolutely LOVE the sweetness of the apple topping against the heartier, slightly spiced sweet potato/carrot so I tend to have a heavy hand with it! 😉