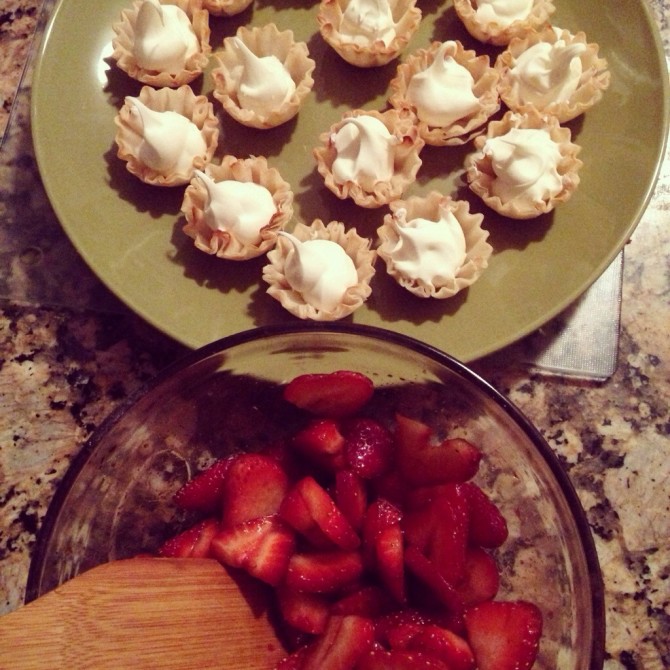 Strawberries + Cream Tarts
With Valentine's Day right around the corner, this is a great little recipe for a quick, festive treat that won't have you laboring over the stove! You can also modify it depending on whether you want it to be vegan or not. I'll give you both options!
strawberries + cream tarts
6-8 strawberries
1 package of philo dough shells
1 container of tofu cream cheese (vegan version)
1 cup powder sugar (optional how much you use)
1 container of mascarpone (if your are not doing the vegan version)
3 tsp of balsamic vinegar
1 tbsp of agave/stevia
First, defrost your little philo dough shells! These little babies are accidentally vegan most of the time but be sure to check the box because I'm sure there are all different brands. Just let them sit on a plate while you wash and slice your strawberries. Place your sliced strawberries in a bowl and add the balsamic and sweetener, mix it all up and let them sit. This will give them a sweet and  tangy taste and make them must more interesting to eat! Now, if you're not going the vegan way, just pipe your mascarpone in to the little shells, the dollup should be about the size of a hershey's kiss at most. For my lovely vegans, take your tofu cream cheese, put it in your mixer and slowly add the powdered sugar to taste. I said 1 cup but you really only need enough to turn the cream cheese taste into a slightly sweeter and more refined 'cream' taste! I use powdered sugar because no one wants their creamy filling to have little granules in it. Yuck!  Once all your baby shells are filled with cream filling, place three strawberry slices on top and you're good to go!
Wasn't that easy?! It'll take you 15-20 mins TOPS – and the best part is that your guest will absolutely think they are the cutest, tastiest thing ever. Everybody wins!