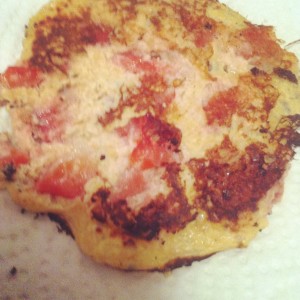 These quick and easy to make strawberry chia seed protein pancakes are delicious! I literally ate four before stopping to take a picture for you guys! Loaded with good for you chia seeds and sweet strawberries, I can't think of a sweeter and skinnier way to start your day! These protein packed pancakes are delicious for breakfast, lunch, dinner or even a great low fat snack to help fight that late afternoon hunger. Low fat, low cal and easy to make. Your diet's already saying thank you!!
STRAWBERRY CHIA PANCAKES
4 or 5 chopped strawberries
1 egg
1 1/2 tbsp of fat free plain greek yogurt
1 heaping tbsp of chia seeds
a dash of agave nectar (optional)
4 tbsp of oat bran
Mix all the ingredients together, adding your strawberries last and then proceed as you would with a normal pancake! Spray some pam or cooking spray into your frying pan and pour some of the batter in and flip when ready. Super easy! Super sweet! These little pancakes taste so good you don't even need any syrup or butter! FYI, this recipe is for an individual portion so multiply as necessary when eating with others.

Thanks for reading! I love that Go Sweet and Skinny is your go-to website for healthy living tips, vegan and vegetarian recipes (from everything from appetizers to cupcakes!) and diet advice. I"m committed to helping you get skinny and live the sweet life! Please follow @gosweetnskinny on twitter, like us on Facebook and subscribe to our YouTube channel (youtube.com/user/gosweetandskinny) to keep yourself sweet and skinny 24/7. And as always, feel free to email me at gosweetandskinny@gmail.com and let me know what low fat, healthy recipes you want to see on the site, what diet books your trying and ask any diet questions your little heart desires! I'm here to help you!:)