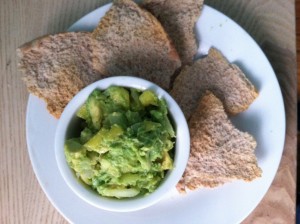 I was actually taping a video about how to make my favorite guacamole when half way through the filming the camera shut off and I didn't realize it till I had already made a ton of guacamole. So of course, I stuffed my face with fresh guacamole (after taking that picture for you guys, of course!) and decided it would have to be a post for now! The thing I love about guacamole is that everyone has their own way of making it, every restaurant and every person I have asked always has their own favorite spin on it. Mine is pretty simple, fruity, mild and tomato-less. You could find that totally boring or amazingly delicious but the fabulous thing about guacamole is that you start with an avocado and then it's really up to you from there. So I've included my recipe below but I would love for you to comment, email and tweet me YOUR special guac recipes! Maybe we can make a Guac -Ten ways post and I can share some of your tips & tricks (and of course give you proper kudos!).
CASSANDRA'S FAVORITE GUAC
1 avocado : cut in half, pit removed, then cut horizontally and vertically a couple times before taking your knife around the edge by the skin and allowing the avocado to fall out of the shell
3 whooping tbsp of chopped onions
half of a mango diced
juice of half a lime
1/4 tsp of salt
Chips made from whole wheat pita's cut into triangles and baked in the oven for 5 -10 minutes! Such an easy and delicious snack! Oh and did I mention it's naturally VEGAN!? Win!

Thanks for reading! I love that Go Sweet and Skinny is your go-to website for healthy living tips, vegan, vegetarian and low fat recipes and diet advice. Let me know what healthy recipes you want to see on the site and ask any questions your may have. I'm here to help!